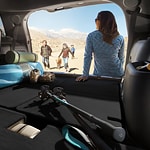 Our Land Rover of Tacoma team wants Fife, WA motorists to stay safe when they hit the roadways for vacation. If you're going on a road trip, you can optimize safety with these tips.
A road safety kit is an essential tool that can come in handy during emergencies. Many drivers make their own kits and pack things such as first aid items, a flashlight, batteries, blankets, flares, and jumper cables. Nonperishable food and water are also good to include in a road safety kit.
Prepare your vehicle before you leave. Make sure the tires are properly inflated, and a routine inspection is important. During an inspection, fluid levels will be checked, and the tires may be rotated if needed. Planning your route before you leave is beneficial, and it's also helpful to check traffic and weather updates along the way. Be sure to take breaks to stretch, and if you feel drowsy, pull over to rest.