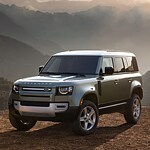 The all-new Land Rover Defender is set to hit the market in 2022, and it is sure to be a popular choice for off-road enthusiasts. This vehicle has been completely redesigned and features some impressive performance specs. Let's take a closer look at what makes the new Defender so special!
-The new Defender is powered by a turbocharged four-cylinder engine that produces 296 horsepower and 295 lb-ft of torque.
-This vehicle also features an eight-speed automatic transmission, as well as a two-speed transfer case.
-The new Defender has a top speed of 121 mph and can accelerate from 0 to 60 mph in just six seconds.
-This vehicle is also able to tow up to 7716 pounds, making it a great choice for those who need to transport heavy loads.
-The new Defender is also equipped with an advanced four-wheel drive system that includes a locking rear differential.
-This system allows the new Defender to tackle any terrain, no matter how challenging it may be.