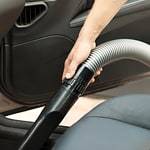 At Land Rover of Tacoma in Fife, WA, we know that many of our customers have pets that travel in the car with them. While we all love our pets, we must realize that their fur can get embedded in car upholstery and carpeting.
The easiest way to remove loose pet hair is to vacuum it with a portable vacuum. Once that is done, you have a few options to remove any leftover hair. A dryer sheet can loosen and pick up deeply embedded hair. Squeegees that are used to clean car windows can also be used to pick up and brush away hair in the upholstery. Duct tape is another easy method to pick up hair.
Removing pet hair from your car is not difficult when you have the right tools. You should also consider preventing hair from getting all over the car in the first place. Consider putting blankets on the seats where your pet will sit. A good brushing before they get in the car is another bright idea.