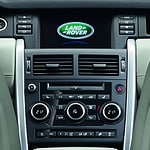 It's time you take a second look at Land Rover's Discovery. While it's not their flagship SUV, the Discovery offers something to drivers that many other midsize SUVs cannot accomplish. For one, you get more performance in the Discovery. It was made to go off-road with a lightweight body and tough suspension system. However, it's the base horsepower that is truly surprising for this midsize SUV. Drivers get 340 horsepower in the base, but it's the Discovery turbodiesel option that many drivers choose because of its clean fuel and higher fuel economy.
Whether you pick the supercharged V6 or the turbodiesel option, you'll get all-wheel drive, off-road package, and a superior suspension system. You can opt for higher control and performance for off-road adventures with packages like the Terrain Response 2 and two-speed transfer case. It's the only midsize SUV of its kind to deliver off-road packages in addition to luxury features.
You can take a test drive of the latest Land Rover models when you head Land Rover of Tacoma centrally located in Fife, WA.