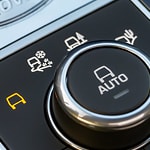 Off-roading is a great way to enjoy your vehicle to its fullest. To help you and your truck or SUV stay safe on wild rides, our city crew has some helpful tips.
When you're just getting started, you might be surprised at how much skill is involved in off-roading. That's why it's helpful to go with a group on your first few runs. They'll help you learn how to navigate — and you'll have someone on hand to help if you need it.
Are you thinking about making aftermarket modifications for off-roading? Make sure to check the manufacturer's specifications — any type of lift or tire adjustment can result in changes to the truck's design. Since each component is designed and positioned carefully, incorrect mods can result in the failure of another part. Before you invest, contact Land Rover of Tacoma to get your vehicle serviced and talk to our technicians about safe options.